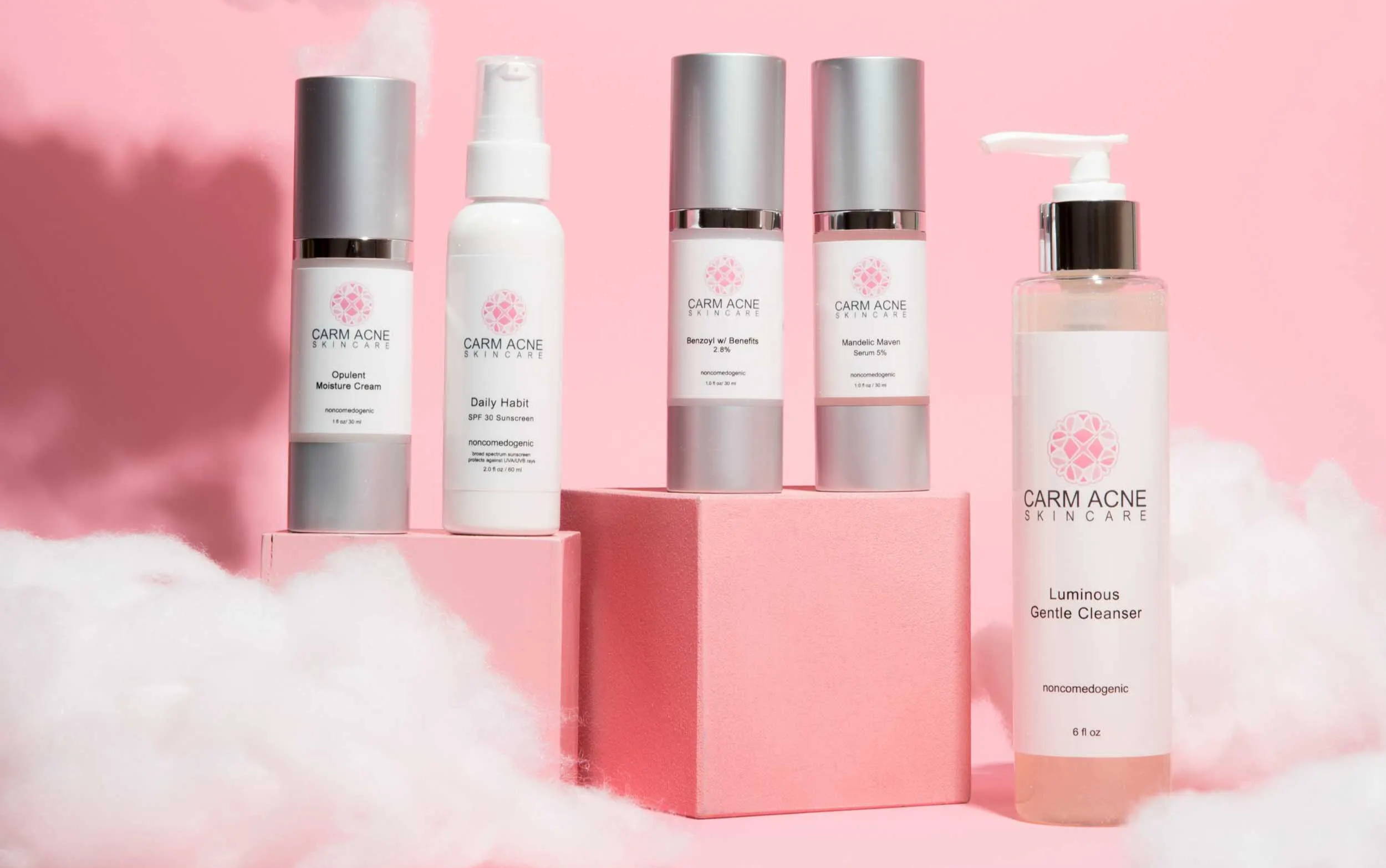 It's Time to Breakup With Your Breakouts
Acne is a toxic relationship that shouldn't run your life.
We all know the hopeless cycle of breaking out, ordering a mixed bag of new products, and crossing your fingers they work– only to be left with irritated skin and a broken heart, yet again.
You deserve a focused skincare system that keeps its promise and delivers lasting results you can see in the mirror.
Make a date with one of our Carm Acne Kits to find your new, forever skincare love.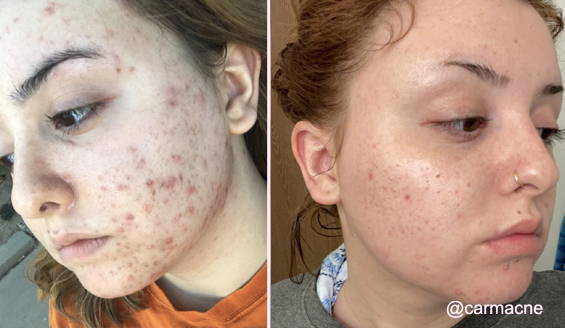 "I started using Carm Acne's Cystic Acne kit back in about November 2019 after watching a youtuber rave about how great your guys' products were and I can genuinely say that I will never, ever switch to any other skincare line! Carm Acne's products have consistently kept me clear versus other kits and brands I've tried in the past which included Acne.org, Paula's Choice Clear, Exposed Acne, Proactive, Apostrophe.com prescriptions and tons of over the counter drugstore products. I've struggled with acne since I was 11 years old which then turned cystic around 15 and it negatively affected my self-esteem so much. And although having clear skin isn't everything, knowing that I have the option to have clear skin now has been a game changer for me in terms of confidence. Having a simple, consistent skin care routine with Carm Acne has also taught me that less is more and it's a perfect way to start and end the day paying attention to my body and treating it gently! Thank you so, so much, Carm Acne!" - Olivia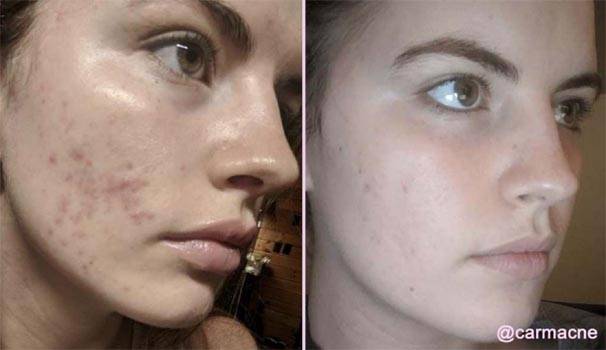 "I had tried everything (and I mean everything) for my acne before stumbling across Carm Acne two years ago. I decided to take a chance, and I'm so thankful I did because this kit is the only thing that truly cleared my painful cystic acne. I can finally focus on things other than my skin… I'll be forever grateful to Carmen. She gave me clear skin and my life back." – Sara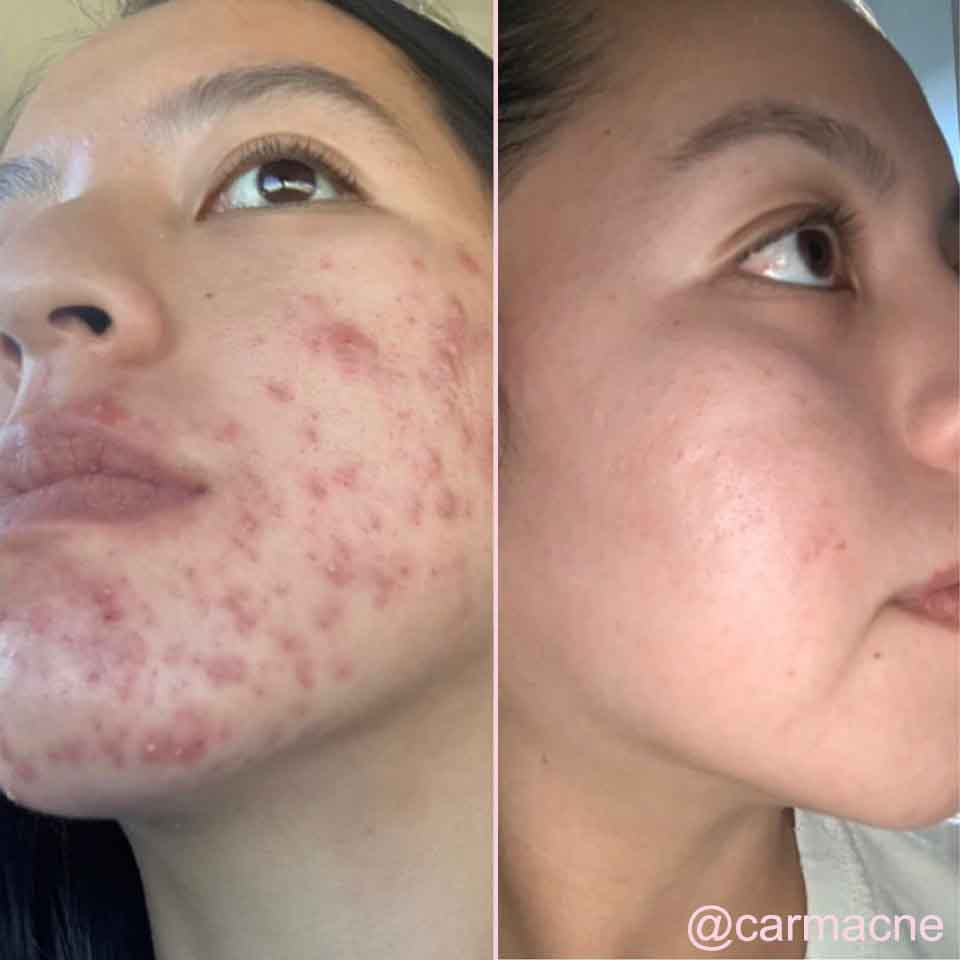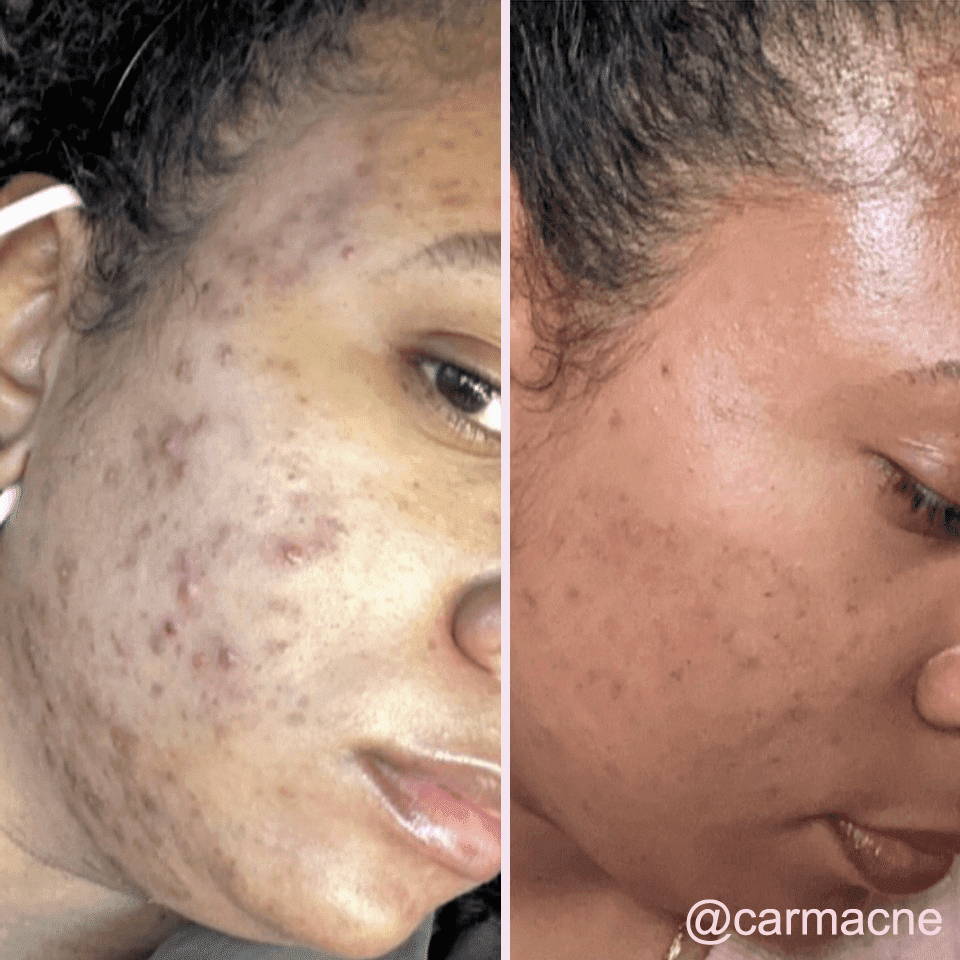 How Are Carm Acne Kits Different From Everything Else on Your Shelf?
Our skin dream team includes benzoyl peroxide + mandelic acid.
This duo works overtime to
• combat bacteria
• exfoliate pores
• calm redness
• fade hyperpigmentation
Mandelic acid is the new kid on the skincare block.
This rock-star acid shines brighter than other "been there, done that" acids like salicylic or glycolic because it's tough on acne while being gentle on your skin.
And we know how you probably feel about benzoyl peroxide… "yeah, yeah, I've tried that before– how is this any different?"
We're so glad you ask.
You may have used benzoyl peroxide or even mandelic acid in the past, but if this combo didn't clear your acne, you weren't using it correctly.
That was a little harsh–but somebody had to tell you.
How you use your products is just as (if not more) important as the products themselves.
Ever get excited about something that seems to be working, and then suddenly, it stops doing the trick?
Super frustrating.
When you apply your products without rhyme or reason, your skin will inevitably get irritated or build a tolerance.
It's all about strategic use and increasing strength.
This is the secret a lot of acne-sufferers miss that ultimately holds them back from getting the results they so desperately want.
And it's exactly why we created our Clear Skin Manuals to give you a comprehensive framework and application schedule.
We won't leave you in the dark after you click 'place order.'
Each Carm Acne Kit comes with a unique manual that walks you through every step of your new skincare routine.
We break down all you can expect on your journey, so it's smooth sailing to clear skin freedom.
And don't worry, there's a Carm Acne Kit for everyone– so find your match made in heaven below.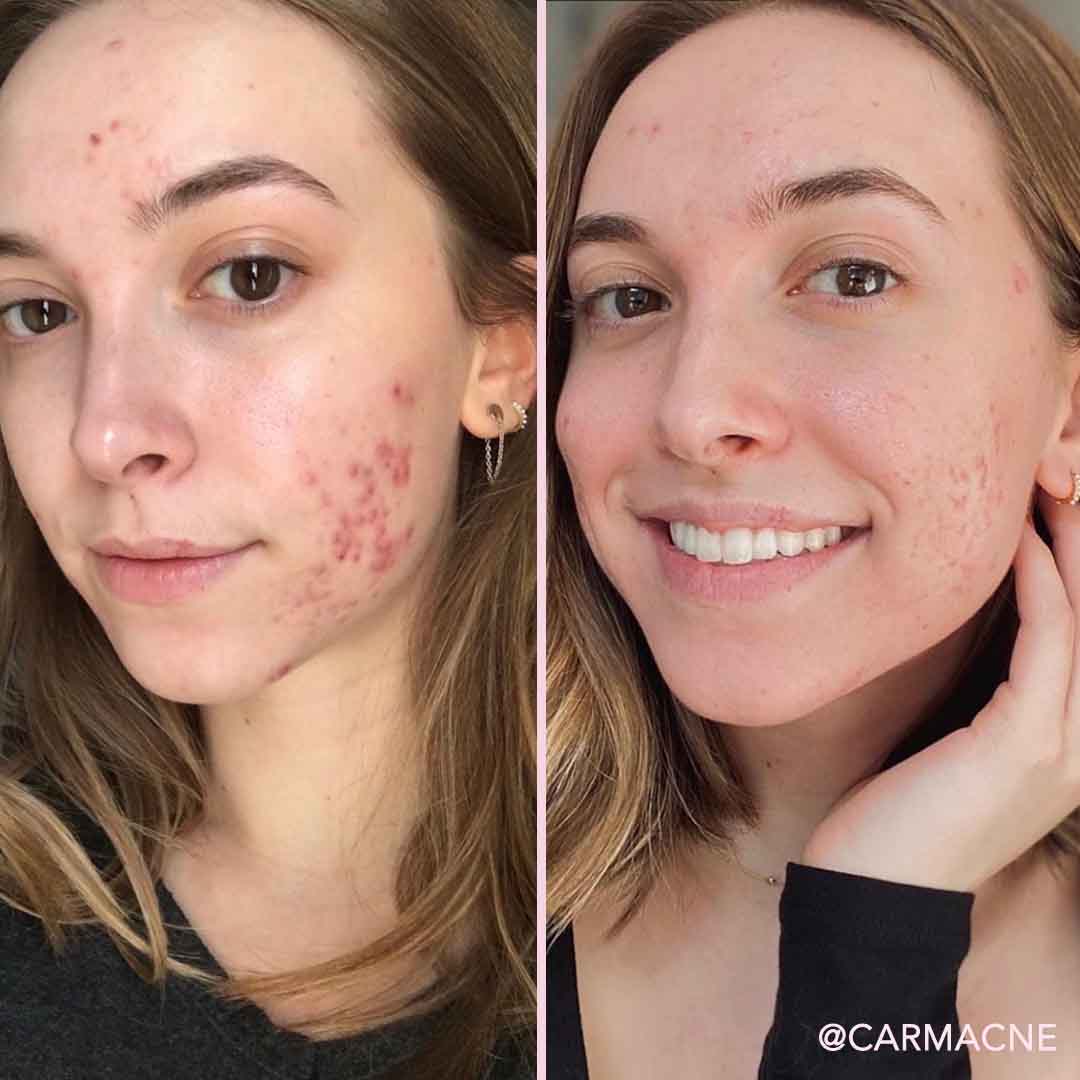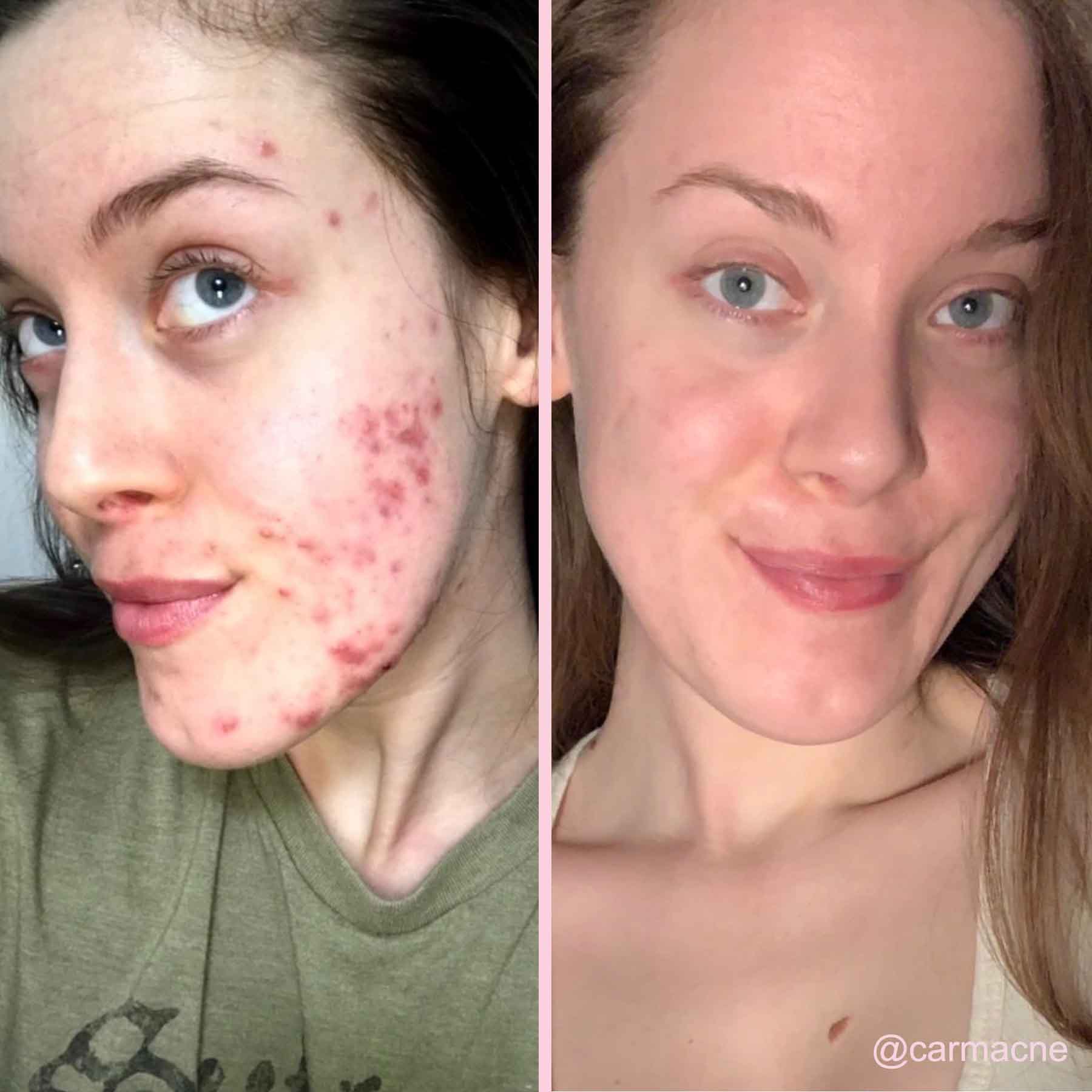 It's More Than

"JUsT aCNe"
Anyone dealing with acne will tell you its effects go deeper than your skin.
It's often the first thing you think about in the morning and the last thing you think about before going to sleep.
So many emotions are tied to your breakouts that it can sometimes feel like a neverending rollercoaster of shame, fear, hope, jealousy, anticipation, confusion, guilt, and anger. (just to name a few)
The mental and emotional toll it has on a person is truly exhausting.
We're often told we need to do this detox, take those pills, try this diet, or see so-and-so specialist.
But the reality is that healing your skin isn't complicated, and the science is clear.
You don't have to spend hours (or years) chasing rabbit holes in search of a magic solution.
Carm Acne Kits use a proven method and formula that changes lives.
It's Time to Stop...
• Canceling plans
• Hiding from the camera
• Wearing makeup to the gym
• Second-guessing your worth
• Letting your acne bring you down
And Time to Start...
• Feeling confident in who you are
• Speaking up
• Stepping out
• Doing the thing
• Living your best life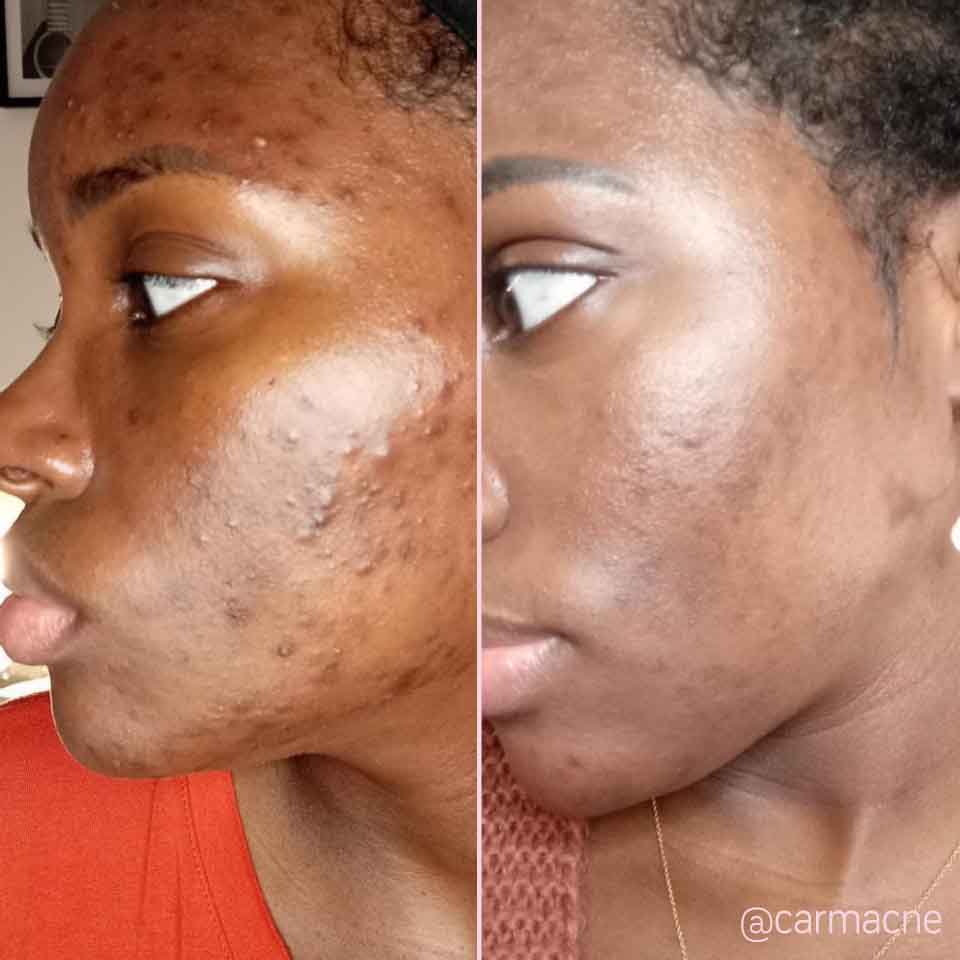 Get Ready For Your Acne Before and After Story
These real-life transformations were made possible without harsh prescription topicals, antibiotics, or Accutane.
Just a team of straightforward ingredients that work.
Because clear skin shouldn't be a mystery that takes a lifetime to solve.
If it feels like you've tried everything under the sun for your acne, stop the cycle and get lasting results with a Carm Acne Kit.
Don't waste another second of your life daydreaming of clear skin– order your kit now!
Worldwide Shipping Available

(because everyone deserves access to clear skin)