What you get with each kit
Face Acne Kit: Perfectly Polished Scrub, Luminous Gentle Cleanser, Mandelic Maven Serum 5%, Benzoyl With Benefits 2.5%, Opulent Moisture Cream, Daily Habit SPF 30, PDF Kit Manual

Body Acne Kit: Perfectly Polished Scrub, Mandelic Maven Serum 8%, Daily Habit SPF 30, PDF Kit Manual

Face & Body Acne Kit: (2) Perfectly Polished Scrub, Luminous Gentle Cleanser, Mandelic Maven Serum 5%, Mandelic Maven Serum 8%, Benzoyl With Benefits 2.5%, Opulent Moisture Cream, Daily Habit SPF 30, PDF Kit Manual

The more, the merrier! Optional add-on products
The following products do not come with the kit but can be added on. They are optional and not mandatory for clear skin.

Frequently Asked Questions
Q: I am allergic to benzoyl peroxide. Do you offer an alternative product?
Unfortunately those that are allergic to benzoyl peroxide will not be eligible for any of our acne kits. This is because benzoyl peroxide is irreplaceable in the fight against acne. Our customers must be able to use benzoyl peroxide daily to get results. Additionally, if you have sensitive or reactive skin in general then our acne kits aren't an ideal fit because of the use of benzoyl peroxide and alpha hydroxy acids in the Mandelic Maven Serum. If you need assistance in deciding whether a kit would work with your skin due to allergy or sensitivity, please email us at info@LuminositySkincare.com before making a purchase.


Q: What additional investments do I need to make?
Your kit products will last approximately 2-4 months provided that you are not overusing them. When you reach month 2, most but not all customers will need to repurchase a different strength of Mandelic Maven Serum and Benzoyl with Benefits (your kit manual will guide on which new strength to get). The rest of your products will last 3-4 months. To maintain your results you will need to continue using the products until you are no longer acne-prone. See below for information on how long your products will last and for pricing:

• Perfectly Polished Scrub for face | $33.50 | 3 months

• Luminous Gentle Cleanser | $33.50 | 3 months

• Mandelic Maven Serum for face | $49.50-$52.50 | 2 months

• Benzoyl with Benefits for face | $20.50 | 2 months

• Daily Habit SPF 30 for face | $28.50 | 3 months

• Opulent Moisture Cream for face | $30 | 2 months



*In addition to investing in Carm Acne skincare products, you will also have to pair this kit with professional extraction services performed by a local esthetician of your choice. That is because non-inflamed acne lesions like blackheads and closed comedones need to be extracted out or else they will continue to linger on the skin for a very long time. Your Carm Acne skincare products will help to loosen these lesions in the pores to help make extractions easier. The products will also prevent new ones from coming back. Achieving clear skin requires a combination of extracting current lesions plus preventing them from reoccurring. It is recommended to receive these treatments every 2 weeks until your skin clears up (most customers will be clear in approximately 3-4 months and will need 6-8 treatments, however some acne cases may take longer to clear). The cost of these treatments are not covered by Carm Acne Skincare and will be the responsibility of the customer to pay for. Once you are clear, you will not need to continue receiving professional extraction treatments.


Q: Why should I use your products if I can just get my non-inflamed acne extracted?
While extractions are necessary to remove current non-inflamed breakouts like blackheads and closed comedones, the Carm Acne products (used in the specific way the kit manual outlines) will not only help to make the extractions easier, but they will prevent new breakouts from coming back. Extractions can only tackle what is already on your skin, they cannot stop the pores from re-clogging, but your skincare products can! Achieving clear skin requires the combination of resolving your current breakouts and stopping new ones from coming back.


Q: Will your kit cause dry skin? I don't want my skin to dry out.
Yes, this kit will cause dry and flaking skin for a majority of customers. This is a normal part of the clearing process and all effective acne products dry out the skin, not just Carm Acne products. The flaking skin you see is due to exfoliation. If you are not comfortable with dry or flaking skin then this kit will not work for you. If you invest in the kit, but back off of your products or skimp on how much you use them in order to prevent dryness from occurring then your skin will not clear up. Our most successful customers have the mindset that they would rather have temporary dry skin than a lifetime of acne. Most do find that the level of dryness is tolerable but that is subjective to each individual.

Further, if you have melanin-rich skin (non-Caucasian skin), please click here to read this important message regarding the potential of hyperpigmentation from dry skin (or from rubbing or scrubbing dry skin). This hyperpigmentation can occur from ANY acne product that is overly drying to the skin, not just Carm Acne products, however most dermatologists, estheticians, and skincare bloggers do not openly discuss this.


Q: Will your Kit cause my skin to purge?
Purging is a completely individual thing. Some customers may experience purging, while others won't. We cannot predict who will purge. Rest assured though that if you purge it does not mean that the products caused new breakouts, but instead they just pushed what was already underneath the skin up to the surface. Purging can happen from any acne product including drugstore products & dermatologist topical prescriptions.


Q: Can I use your kit in combination with my own products?
You should not use any non-Carm Acne products while you are using this kit and going through the clearing process, this includes prescription topicals. Venturing off our proven path can prevent your skin from clearing and may possibly cause a skin reaction. Once your skin is clear, it is up to you if you want to add in other products into your Carm Acne routine.


Q: Can I use your kit while on Accutane?
Accutane users need to wait a full 6 months after they've finished their course of Accutane before using this kit. This 6 month waiting period is standard protocol for any acne product because Accutane sensitizes the skin severely.


Q: I have mainly cysts and pustules, not blackheads and closed comedones. Will this kit clear that?
Blackheads and Closed Comedones Kit will only address non-inflamed acne lesions. If you have cysts, pustules or general inflamed acne then we recommend our Cystic Acne Kit. If you aren't sure if you have inflamed or non-inflamed acne then please email us an in-focus, close-up, and makeup-free photo of your acne. Email it to info@LuminositySkincare.com and type in Kit Question in the subject line.


Q: I only get premenstrual breakouts. Will this kit help with that?
Our products and kits are designed for acne-prone women that breakout on a regular basis and not just related to their menstrual cycle. If you only breakout with menstrual-related pimples, this kit is not ideal for you.


Q: My acne is mild / I only breakout occasionally. Is your kit suitable for me?
Our products and kits are designed for moderate to severe acne only. If your acne is mild or you only breakout occasionally, these kits are not intended for your skin. If you aren't sure if your skin is a good fit for the acne kits, please email us an in-focus, close-up, and makeup-free photo of your acne. Email it to info@LuminositySkincare.com and type in Kit Question in the subject line.


Q: Can I choose a different strength Mandelic Maven Serum or Benzoyl with Benefits for my Kit?
We cannot make any product substitutions to our kits. Kits come with a specific set of products as listed on this page and changes cannot be made. If you need different products, please order them individually instead of a kit.


Q: I am pregnant. Can I still purchase a kit?
We ask that if you are pregnant that you wait until you finish breastfeeding to purchase a kit. Pregnancy and breastfeeding creates hormonal shifts that can interfere with the success of this kit. Additionally, some of our products contain derivatives of retinol and salicylic acid which are contraindicated for pregnancy and nursing.


Q: I have folliculitis/fungal acne. Will your kit work for me?
Our protocol utilizes Mandelic Acid which is beneficial for folliculitis/fungal acne therefore we have seen success in clearing up this type of condition. However, our kits are designed and geared toward moderate to severe acne only, therefore we cannot make any promises or guarantees for other skin conditions as our main focus is strictly acne.


Q: Do your products have fragrance?
Some of the kit products have fragrance. If you are allergic or sensitive to fragrances, this kit is not suited for your skin.


Q: How long will it take to get clear on your kit?
Most customers will be clear in about 3-4 months, however some that have resistant acne can take longer than this. Those that don't follow the program exactly as outlined will not achieve clear skin.


Q: Are results guaranteed on your acne program?
While we have a high success rate in the clearing of acne, we cannot make any guarantees for results. This is because there are so many factors out of our control such as the customers's level of commitment to the program, genetics, diet, lifestyle factors, hormonal issues, medical conditions, prescribed medications, androgen dominant birth control, or the rare case where despite all factors being perfect, one's acne might be extremely resistant.


Q: What is your refund policy?
Because of the nature of the material presented in digital format (kit manual), and the success of this program largely dependent on customer adherence to the guidelines presented, refunds are not available. Please make sure you are absolutely ready to commit before making any purchases.


Q: Do I have to purchase a kit manual separately?
No, you do not have to purchase a kit manual separately. This kit includes a FREE pdf manual which you will have access to immediately after your purchase.


Q: How do I access the manual after I purchase a kit?
You will have access to the pdf manual immediately after your purchase. Just check your emailed receipt for the download link as shown in the image below: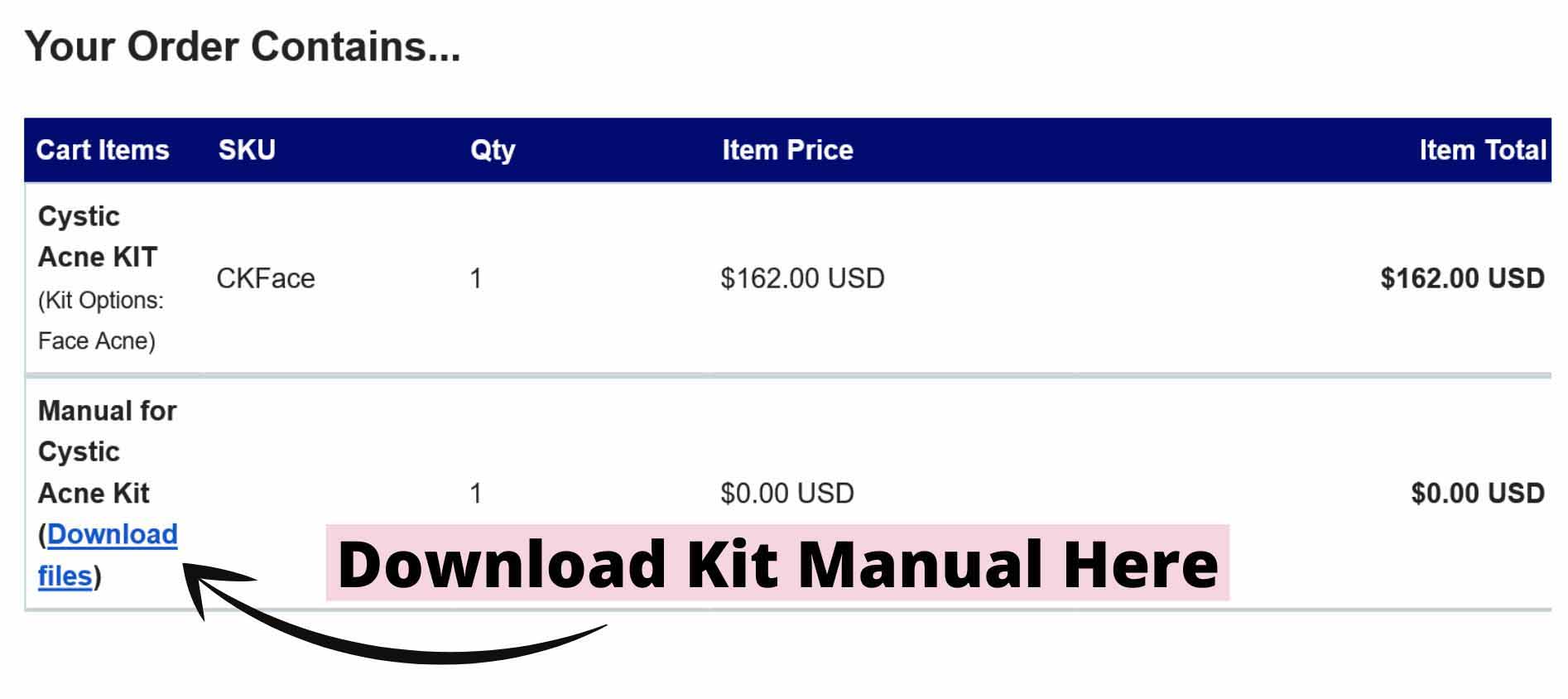 Q: Why do I need the kit manual?
This PDF kit manual is packed with all the acne clearing information you'll need to get clear skin.

You'll have instant access to download the kit manual as soon as your kit is ordered so you can dive right into it while you wait for your acne products to arrive.


Here's a preview of what's in the kit manual.
Our simple trick for staying motivated during the clearing process. This trick will keep you focused on your goal and ensure that you stick to doing your skincare routine daily.
Page 10.

Learn the REAL cause of acne. With so much misinformation out there it's easy to get confused and wonder why you're the only acne-prone one in your squad even though you're more faithful to your skincare regimen than they are and eat better than they do.
Page 13.


Discover which foods aggravate acne therefore need to be eaten in moderation. But don't fret! Moderation is the key, we don't believe in 100% strict elimination diets.
Page 17.

Find out which 4 supplements can help you clear up easier. These supplements are optional but can really help you along the way.
Page 19.

On the flip side, find out which 3 supplements you should AVOID because they will wreck your skin. One of these supplements is constantly promoted for acne-prone skin but it does more damage than good!
Page 21.


Discover which birth control pills make acne worse and which ones are acne-friendly. Sidenote: you don't need birth control for this program to work, but many of customers are on the pill so it's good information to have.
Page 27.


Stop wasting money on makeup that is loaded with pore cloggers by using my List of Pore Clogging Ingredients to Avoid to vet products before you buy them.
Page 29.


Learn the 5 most common obstacles you'll encounter on your way to clear skin. After successfully treating acne for more than a decade, We've noticed 5 main obstacles that pop up for all of our customers. Knowing them ahead of time prepares you to recognize them and overcome them so you can continue on toward clear skin.
Page 32.


Discover our 4 secrets to making benzoyl peroxide work for you. 99% of people make the same 4 mistakes with their benzoyl peroxide so it's no wonder they think it doesn't work. But when you correct these simple mistakes, your skin will clear up beautifully.
Page 44.


Discover our trick to healing painful, inflamed pimples fast. The best part is that this trick uses something you already have in your house.
Page 48.


Learn how to stop acne from adapting to your products. Ever have the experience of trying a new product and at first it's working but after a few weeks your acne comes back? That's because your acne adapted to your products. We'll show you how to avoid this.
Page 53.


Most importantly you'll get step by step instructions on how to use the skincare products. You'll know the sequence of your product routine, how much product to use, and how often to use them. These instructions are not available when ordering individual products, they are ONLY available in this kit manual. This section of the manual is where the real magic is. You can't just slap on acne products and hope for the best. You have to follow a specific protocol which we outline for you here.
Page 56.


Now that you're clear and glowing, it's time to talk about how to maintain your results. Maintaining your newly cleared skin is so easy!
Page 82.


Our kit manual is packed with all that information and so much more! It's definitely a must-have if clear skin is your goal.